April 4th, Held as Scheduled —
the Opening Party of Mr Sanzi's Art work In Beijing Himalaya Experimental Gallery at SongZhuang!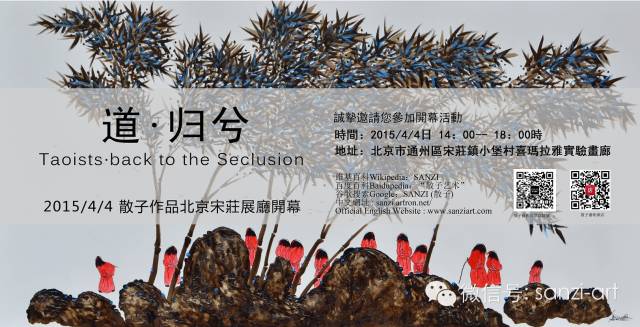 The Poster of Sanzi' Artwork Shown in Beijing
Following the Standing Exhibiton Hall of Shanghai、NewYork、Miami、Paris、Singapore & Kuala Lumpur ,Beijing Himalaya Experimental Gallery will long-term exhibit Mr Sanzi's Artwork.
One View of Sanzi 'Artwork Beijing Exhibition Hall
During the Party,there is a lot of Celebrities included: The Curator of Venice Biennale Sandro Orlandi、famous Italian Artist Mr Salvo and his wife Candice Ho、Famous Taiwan Musician Dejian Ho、many famous artisits and Directors of Musumes at SongZhuang、 some local Government Leaders and so on.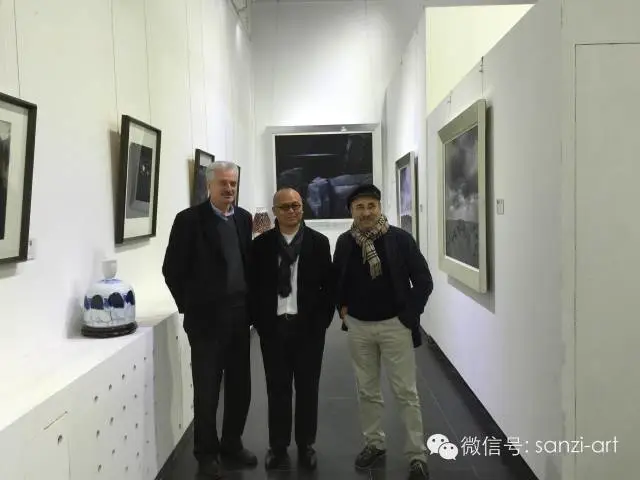 The left is Curator of Venice Biennale Sandro Orlandi&The right is famous Italian Artist Mr Salvo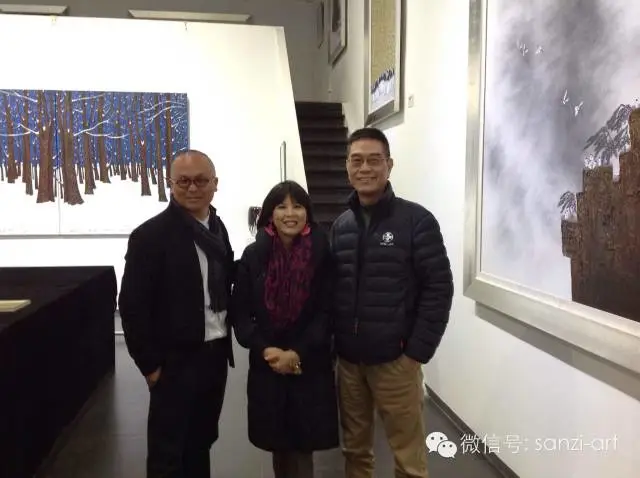 In the Middle is Mr Salvo's wife Candice Ho、left is Taiwan Musician Dejian Ho
In this opening party,not only show Mr Sanzi's Classic Artwork《Red Plum Blossom》《Snowing Touch·Company life》,but also the new painting《Snow Fei·Three Virtuous》《Come Loose· Free》,the theme still is Taoism,peace、quiet and Elegant or grand and magnificent,or with endless meaning.By his deeply life experience and inspiration、unique expression skill, renew explain Lao Zi 's Taoism.
Beijing Gallery Address:Beijing City Songzhuang District Xiaopu Village Himalaya Experimental Gallery(400 meters at north of the roundabout)
上海展厅:上海市普陀区莫干山路50号M50 4A-102#,107#
Shanghai: Shanghai City Putuo Distict Moganshan Road No.50 M50 4A-102#,107#
纽约展厅:231 Tenth Avenue New York, NY10011
New York: 231 Tenth Avenue New York, NY10011
迈阿密展厅:313 1/2 Worth Ave - Via Bice Palm Beach, FL 33480
Miami:313 1/2 Worth Ave - Via Bice Palm Beach, FL 33480
巴黎展厅:10 Rue de Picardie 75003 Paris 
Paris:10 Rue de Picardie 75003 Paris
新加坡展厅:Pte Ltd1 Kaki Bukit Road 1# 01-11 Singapore 415934
Singapore:Pte Ltd1 Kaki Bukit Road 1# 01-11 Singapore 415934
吉隆坡展厅:No. 1, Jalan Dutamas 1, 50480 Kuala Lump
Kuala Lump:No. 1, Jalan Dutamas 1, 50480 Kuala Lump